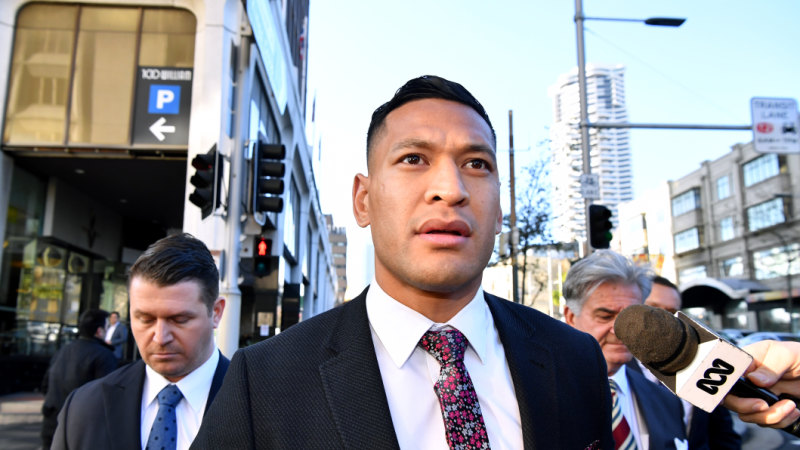 After my visits to the Folaus' church at Kenthurst, I discussed my concerns with knowledgeable Christian friends who happened to be associated with the ACL.
Loading
Things heated up with Israel Folau's Instagram meme in April claiming hell awaits "drunks, homosexuals, adulterers, liars, fornicators, thieves, atheists and idolaters". I contacted the church and asked for a statement of belief. It sent me several videos by US-based Oneness Pentecostal Pastor Gino Jennings, notably describing the trinity as "junk", women preachers as following Satan, women who wear makeup as "prostitutes", and homosexuals as "faggots".
When the ACL took over the fundraising campaign for Folau's legal fight against Rugby Australia, its site repeated what Folau had said on his GoFundMe page: "My faith is the most important thing in my life. I try to live my life according to the Bible and I believe it is my duty to share the word of the Bible."
When I asked whether Israel had told the ACL about his beliefs, Josiah Folau said:  "I have no idea what he's told the ACL … but they have definitely seen his preaching and the truth that Israel believes in, for sure. Some of them came to our church, and heard our doctrine, so they definitely know what we're on about."
I asked, "Do you think the ACL believes your teachings are false?" Josiah responded: "Gino Jennings, Eni, myself, Izzy and all born-again believers are simply servants of God. We aren't false teachers, but if you want to believe that go ahead, it's up to you."
My ACL friends urged me to send my information about the Folaus' church to the ACL executive. I spoke with Martyn Iles on July 4 for 35 minutes by telephone. It was a direct, respectful discussion. I suggested the Christian public had a right to know Folau's true beliefs.
While Iles clearly expressed concern, he also made it clear that for him the greater issue was religious freedom for all Australians. I said if Folau was identifying himself as following another religion, I could see his point. However, Folau had "repackaged Christianity", effectively nullifying the rest of us with his "Oneness theology" – and he was being viewed as the "poster boy" of our beliefs, while denying our essential doctrines, treating us all as "unbelievers".
Iles told me he would meet Izzy the following week and have a serious discussion about his true beliefs. I suggested he take a church minister with him to have a witness to the discussion. Martyn disagreed, saying he was still just getting to know "Izzy". He had only known him for two weeks and met him twice. In my view, it all happened very quickly and lacked due diligence.
In the end I felt compelled to bring the information I had to the public. I was shocked when Isles made allegations that I had made these things up. He described me as a "hostile woman with an axe to grind against Izzy's family (who won't identify herself and has been trying to make trouble for a while now)".
I had identified myself to ACL members who organised my phone conversation with Iles. I hesitated to identify myself to Iles himself as I was unsure if he was clear on what the Folaus really believed. I identified myself when I attended the Folaus' Bible study, when Israel was present. I do not have an axe to grind with the Folau family and I am genuinely, as a Christian, concerned for the difficult situation they are in.
Iles also claimed, "The story appears to be based predominantly on quotes from a single anonymous source who has been acting in concert with Rugby Australia."
I have nothing going on with Rugby Australia. I am a Christian concerned about the spread and acceptance of false teachings in the church. To quote some wisdom borrowed from the ACL website, "And the truth, whenever it is spoken, will yield fruit. Silence is not an option."