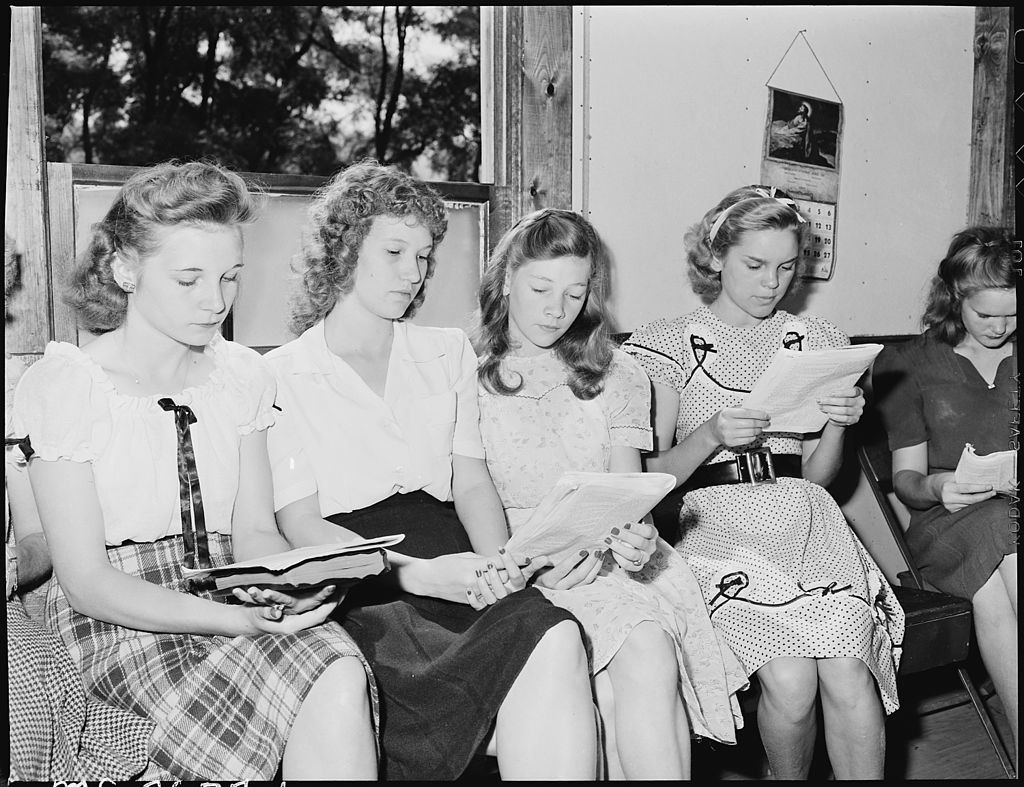 This is part 4 in a series of articles examining the origins of public education in the United States.
Widely recognized as the founding father of America's "progressive" public education system, John Dewey was a man on an unprecedented religious mission. With more fervor and devotion than many Christian missionaries or Islamic jihadists, he set out to win America over to his religious worldview.
Like the collectivists whose shoulders he stood upon, government-controlled education was Dewey's weapon of choice. And now, more than a century after he began, it's clear that Dewey and his disciples are winning—big time.
When Dewey launched his crusade to erode the faith and individualism of Americans, the United States of America was among the most devoutly Christian nations that the world had ever known. Church and the Bible were an inseparable part of life and education for virtually everyone.
A Christian Country
In 1643, in the Articles of Confederation of the United Colonies, the earliest settlers in America declared: "We all came into these parts of America with one and the same end and aim, namely, to advance the Kingdom of our Lord Jesus Christ and to enjoy the liberties of the Gospel in purity with peace." (Emphasis added)
Centuries later, that was still the prevailing sentiment. In 1856, for example, the U.S. House of Representatives, which represents the people more directly than any other federal body, put it this way: "the great vital and conservative element in our system is the belief of our people in the pure doctrines and divine truths of the Gospel of Jesus Christ." Numerous similar declarations came from Congress before and after that.
In 1892, meanwhile, even the U.S. Supreme Court declared in Holy Trinity Church v. the United States that America "is a Christian nation."
As recently as the 1970s, nine out of ten Americans still identified as Christians. Today, however, just two-thirds of Americans identify as Christians, with those numbers plummeting further every year.
Even in the Bible belt today, significantly less than half of Americans attend church weekly, with church attendance dropping to less than 20 percent in some states.
And even among those self-proclaimed Christians, studies and surveys by the Nehemiah Institute and other organizations reveal that the vast majority reject the Biblical worldview that defined Americans for centuries.
With the decline of Christianity and the biblical worldview among Americans, the free political institutions they gave rise to have eroded, too.
Probably the most important single figure responsible for the rapid implosion of Christianity in America and across the West more broadly was Dewey.
Humanist Manifesto
In a previous article in this series, Dewey's well-known collectivist views were documented, including his fascination with the Soviet Union and his desire to radically transform the United States into a socialist nation.
The foundation for this transformation was laid in the early 1800s by communist Robert Owen, whose writings on education inspired the Prussian government to take over education. Decades later, Massachusetts Secretary of Education Horace Mann, a collectivist and Utopian, would import that statist system to America.
Finally, Dewey would seize control of that architecture, mix it with Soviet ideas and psychology, and provide an enormous boost to its effectiveness in fundamentally transforming America.
Part 3 in this series focused primarily on Dewey's views on politics, the economy, and education. But Dewey's religion—often described as "atheism" but in reality going beyond that—is a crucial part of the puzzle as well. It's also inseparable from his views on everything else.
The high-profile reformer did not seek to conceal his religious views from the public. In fact, he was a key player and one of the first signatories behind the first "Humanist Manifesto." This important religious document essentially fused faith in the non-existence of God with fanatical devotion to socialism and communism, creating potentially one of the most dangerous religions of all times.
The very first tenet of this "new" religion was a direct and open attack on the Bible and the prevailing religious orthodoxy of the time—in particular the notion that an omnipotent and omniscient God had created the universe and the Earth as described in Genesis 1:1, the Bible's very first verse.
"Religious humanists regard the universe as self-existing and not created," reads the first tenet of Dewey's religious manifesto. Note the honesty: Dewey and company recognized that their belief system was, in fact, a religion.
Beyond the giant implications for religion, the political and economic significance of this statement is profound, too.
Socialist Aims
America's Founding Fathers argued that is was a "self-evident" truth that God had created people and endowed them with certain inalienable rights, as explained clearly in the Declaration of Independence. Indeed, the very purpose of government, they said, was to protect these God-given rights—life, liberty, and so on.
But under Dewey's religion, there is no God. And if there is no God, then there can be no God-given rights. In fact, Dewey was openly hostile to the view that anyone had an inalienable right to private property or anything else. After all, if there is no God to prohibit stealing private property, or even murder, there is no transcendent reason why anybody should have inalienable rights to anything. This is a recipe for totalitarian rule.
The socialist and collectivist mentality behind this was all spelled out clearly in the Humanist Manifesto itself.
"The humanists are firmly convinced that existing acquisitive and profit-motivated society has shown itself to be inadequate and that a radical change in methods, controls, and motives must be instituted," they wrote. "A socialized and cooperative economic order must be established to the end that the equitable distribution of the means of life be possible."
This is the exact same rhetoric used by every communist tyrant of the 20th century: The profit motive is bad, so radical change, including collective ownership of the means of production, must be instituted. This has been the guiding vision of such luminaries as Castro, Lenin, Mao, Stalin, Pol Pot, Chavez, Maduro, the Kim dynasty, and many more. Countless millions have died as a direct result of these ideas being imposed.
But individualist American Christians with a devotion to God and God-given liberty were hardly going to just give up their ingrained beliefs, their hard-won freedom or their property rights without a fight. So Dewey and his disciples—often funded with capitalist Rockefeller money, ironically—understood that "education" would be crucial to changing people's attitudes.
It had to be done quietly, though. "Change must come gradually," Dewey explained in an 1898 essay calling for schools to place much less emphasis on reading and writing, and much more emphasis on collectivism. "To force it unduly would compromise its final success by favoring a violent reaction."
A National Religion
Charles F. Potter, a fellow signer of the "Humanist Manifesto" and an associate of Dewey, spelled out explicitly what few Americans were willing to see or understand at the time. "Education is thus a most powerful ally of humanism, and every public school is a school of humanism," he wrote in his 1930 book "Humanism, a New Religion."
"What can theistic Sunday school, meeting for an hour once a week, and teaching only a fraction of the children, do to stem the tide of a five-day program of humanistic teachings?" Potter asked rhetorically. Of course, the answer is practically nothing, as the humanists well understood.
A few decades after Potter's bombshell, the U.S. Supreme Court would formalize it all. After centuries of being at the center of American education, the Bible and prayer in schools, as mandated by state and local authorities from the time public education came into being, were suddenly found to be "unconstitutional."
Supposedly, Bible and prayer in local schools represented a violation of the First Amendment's prohibition on Congress passing laws respecting an establishment of religion. The legal "logic," or lack thereof, required the court to twist itself into pretzels.
A well-educated public would have seen right through the deception. After all, when the First Amendment was written and ratified, and long afterwards, most of the states actually had established churches.
But after decades of declining educational standards and humanist propaganda in schools, the monumental decision that would transform America was meekly accepted by much of the populace.
At least one justice, Potter Stewart, understood what was really happening. "Refusal to permit religious exercises thus is seen, not as the realization of state neutrality, but rather as the establishment of a religion of secularism," he wrote in his dissent, using the term "secularism" to describe what Dewey and his cohorts would have referred to as humanism. (Emphasis added)
In short, under the guise of upholding the Constitution, the U.S. Supreme Court did the very thing the Constitution was supposed to prevent congress from doing: It established a national religion and compelled Americans to support it with their taxes, and more significantly, with their children.
The reason for the First Amendment was clear—the Founders were worried that some denomination of Protestant Christians might try to establish itself as the official national religion. They never would or could have imagined less than two centuries after creating the new Christian nation, that the institutions they established would force anti-Christian humanism on the American people via public education and judicial fiat. But that's exactly what happened.
Government schools across the United States to this day pretend to be "neutral" on matters of religion, even while they indoctrinate children into believing in humanism, as if humanism were not a religious belief system. Dewey and his fellow humanists recognized it as a religion, though. And federal courts have, too.
As recently as 2014, a federal court in Oregon declared as much. "The court finds that Secular Humanism is a religion for Establishment Clause purposes," wrote Judge Ancer Haggerty in the ruling, which did not concern schools in this case but was nonetheless highly relevant to education.
Today, Dewey's totalitarian religion of humanism is being inculcated into the mind of every child attending public school, often by unwitting teachers who do not even realize it. Polls now consistently show over half of young Americans identify as socialists. Dewey would be proud. But Americans should be outraged.
Alex Newman is an award-winning international journalist, educator, author, and consultant who co-wrote the book "Crimes of the Educators: How Utopians Are Using Government Schools to Destroy America's Children." He also serves as the CEO of Liberty Sentinel Media and writes for diverse publications in the United States and abroad.
Views expressed in this article are the opinions of the author and do not necessarily reflect the views of The Epoch Times.