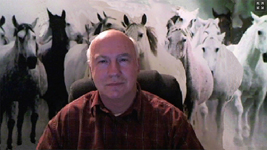 From the desk of Roy Roden: Every week I will be posting an overview of the teachings of the "basic Training for the Gift of Prophecy course we are doing in Belfast every Wednesday at 6:00pm.
2- The Purpose Of Prophecy – unveiling the gift
Prophecy is a ministry of the Holy Spirit. It is one of the nine gifts of the Holy Spirit spoken of in 1 Corinthians 12:10. Lets read this verse together.
"To another the working of miracles; to another prophecy, to another discerning of spirits; to another different kinds of tongues; to another the interpretation of tongues."
Paul tells us, "For the manifestation of the Spirit is given to every person to profit thereby" (1 Cor. 12:7).
To whom are the gifts of the indwelling Holy Spirit given? TO EVERY PERSON!
Now turn to the person next to you and tell them, "EVERY PERSON INCLUDES YOU!"
Paul also tells us to follow after love and to desire spiritual gifts, "But rather that you may prophesy."
To desire in this verse, means to lust after, to passionately desire.
Paul gives a simple definition of prophecy, "But everyone who prophesies speaks unto men to edification, and exhortation and comfort" (1 Corinthians 14:3).
In simple terms, prophecy is "hearing" from God and speaking what you hear in order to edify, exhort and comfort someone. To prophesy is to hear from God and speak that which you hear.
Person prophecy is a word given to a specific individual.
Prophecy is not given to bring correction, direction, or to express our views and opinions, but to give a word that reveals the heart of Abba Father and His love.
God's heart is always for Restoration, Redemption and Renewal – the three R's.
Prophecy is one of the ways that God's love is demonstrated. Few things can impact a person like a word that came from God just for them.
Lets' look at the three elements of prophecy noted in 1 Corinthians 14:3.
For Edification

For Exhortation

To Bring Comfort
Lets' look at the meaning of each of these three components that make up a prophetic word.
To EDIFY means to "build up" such as building up ones faith, to strengthen one's relationship and walk with God.
The apostle Paul tells us when Christians build up one another, this "Increases the body of Christ unto the edifying of itself in love" (Eph. 4:16).
We all should seek to lift up those around us, to bring support and build them up as members of the family of God.
But when God edifies, the resurrection power of the Spirit LIFTS the person up INTO Christ. Their faith is renewed with newfound courage that builds up the person in Christ.
EXHORTATION is a ministry of the Spirit that emboldens and brings courage to the life of a believer.
It means to "strongly encourage" or to give counsel from the wisdom of God that comes from above (James 3:17).
Prophecy however, is not just speaking human encouragement, but divine encouragement. Here is a Biblical example of a word of divine encouragement.
During a major storm, after Paul received encouragement from an angel, He addressed the ships captain and crew stating,
"And I exhort you to be of good cheer: there shall be no loss of any man's life among you, but only the ship"(Acts 27:22 -25).
To COMFORT means to "lighten one's burden; to console, the easing of one's grief or discomfort.
We are not talking about human comfort, sympathy, compassion or understanding, but a ministry of the Spirit. The "God of comfort" brings healing, freedom and removes constraints. His comfort breaks the stronghold of fear, discouragement and brings peace as noted in 2 Corinthians 1:3-4:
"Blessed be God…the Father of mercies, and the God of all comfort. Who comforts us in all our tribulation, that we may be able to comfort them which are in any trouble, by the comfort that we ourselves are comforted of God."
All of these divine virtues of exhortation, edification, and comfort, flow through the ministry of the Fathers love, "For the love of God is shed abroad in our hearts by the Holy Spirit given to us"(Romans 5:5).
Activating Prophetic Grace – Ask and you shall receive
How do we activate prophetic grace to move in the gift of prophecy? Jesus said, "Everyone who earnestly desires that ask Him shall receive" (Mathew 7:7).
Lets' ask together. Heavenly Father,
With thanksgiving we thank you that "Every good gift and every perfect gift is from above, and comes down from the Fathers of lights" (James 3:17). We ask for the Holy Spirit to impart, activate, and release to me the gift of Prophecy.
It is my earnest desire to operate in this gift that others may know your thoughts, hear your heart and know your love.
In Jesus name we pray – Amen