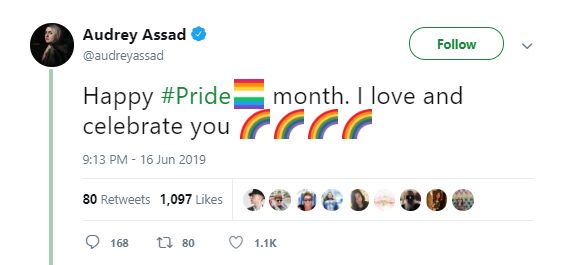 Popular Catholic singer Audrey Assad, known for songs such as "Restless," "For Love of You" and "Even Unto Death," as well as a number of hymn renditions, recently tweeted in recognition of Pride Month, stating that she loves and celebrates her homosexual friends.
"Happy #Pride month. I love and celebrate you," she posted on June 16, with four rainbows following.
The tweet generated much discussion among her followers, some of whom supported the comment and others who were disappointed by it.
"Audrey, thank you! The Spirit is calling the Church toward love, compassion, and inclusion. Thank you for heeding Her call," one commenter wrote.
"I love you so much, Audrey. It's incredible to have other Christians support/be allies for the LGBTQ+ community," another stated.
"How very distressing this tweet is to me, Audrey, since I have been a huge fan for many years," a third shared. "Love and kindness do not require celebrating sexual sin. We should never take pride in contradicting the truth of marriage and God's design for the human person. Male and female."
"This is misplaced, false charity. Charity without truth is not charity at all. We must love and respect every human person. Transgenderism and homosexuality are gravely disordered and contrary to both natural and Divine law. Please take this to honest prayer. Lord, have mercy," another lamented.
Assad responded the following day with another post, stating that she didn't want to explain herself other than saying she loves her homosexual and bisexual friends.
"I hear and see a lot of you experiencing confusion about my #pride post," she wrote. "Those of you who are sticking by me even though you don't share my feelings, thank you. Those of you who feel a need to unfollow or disown me in some way, thank you too."
"I'm not going to get into details or explanation here right now because I'm simply more interested and invested in the relationships I have in my life, of which my statement was actually born," Assad continued. "I love and celebrate my gay/bi friends, and I trust providence to guide us all deeper in to love and truth and healing, whatever that looks like."
It is not the first time that the singer, who has appeared at IHOP conferences and has recorded duets with other worship artists like Matt Maher ("Lord, I Need You" and "Oh Mercy"), Josh Garrels ("Wood and Nails"), Chris Tomlin ("Winter Snow") and Fernando Ortega ("Oh, the Deep, Deep Love of Jesus"), has written about homosexual-related matters.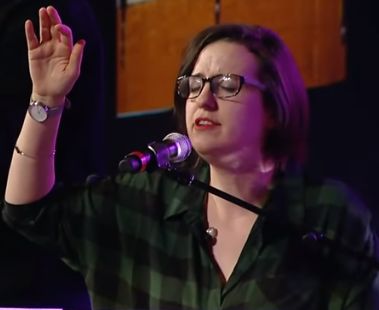 Assad
Last June, Assad tweeted, "Finally in the mood to cry healing tears this week, so I am pressing play on 'Queer Eye Season 2,'" referring to the Netflix series.
In 2016, during a Twitter discussion with pastor and professor Denny Burke, she stated, "I think it's really easy for those of us who experience heterosexuality as unchosen and natural to believe these things. How then, do we preach the gospel to those who don't [feel the same way]? How is it Good News to them?"
"He has come to make all things new, including us in all our brokenness and sin," Burke replied.
In 2015, Assad said during another discussion that she doesn't think it's fair to equate homosexuality with sex acts, writing in part, "I have a lot of gay friends who perceive Church teaching as cruel, and none of them are sex fiends."
In April 2018, Religion News Service published an article on Assad entitled "From Hell to Atonement, Musician Audrey Assad has Been Quietly Evolving." In the interview, Assad explained that she had been wrestling with the concept of Hell, and doesn't think that eternal punishment is reflective of how she views God.
"I don't know what lies beyond, exactly. I hope it is mercy, and if there is a literal Hell, I hope and pray it will be empty," she stated. "I will say I no longer believe eternal conscious torment is consistent with the God I think I know."
"I was raised in an environment which primarily taught penal substitution, as well as several other types of atonement theory. At this point, I no longer see penal substitution as consistent with the God I have come to know in the broader context of history and church teaching," Assad also outlined during the discussion. "That said, do I know how atonement works? No, I most certainly don't."
She further said that she was open to the possibility that Genesis "didn't happen exactly as it is recorded" but "that it has something more important to offer than scientific facts to communicate about God's mercy and love."
Last month, Assad praised progressive blogger and self-described "doubt-filled" author Rachel Held Evans — who advocated acceptance for homosexuals and transgenders in the church — following her passing, writing in one of her tweets, "I find myself praying and hoping that @rachelheldevans' severest critics will read #becauseofRHE and see the garden she tended, the fruit it has borne, the way it has flowered in the world."
She also characterized as "glorious" and "gorgeous" the message delivered at Evans' funeral by Nadia Bolz-Weber, an edgy minister in the apostate Evangelical Lutheran Church in America (ELCA) who is known for her use of profanity, as well as her new book "Sex Revolution," in which she "urges [readers] to take antiquated, sexist ideas about sex, gender, and our bodies and 'burn them the [expletive] down and start all over.'"
On Wednesday, Assad tweeted that she was working on a Gungor cover song — a former worship artist who has generated controversy over his various doubts, including in 2014, when he said he couldn't believe in a young creation or that the earth was flooded 4,000 years ago, opining that Genesis is a "poem."
Assad's followers have left a number of messages of concern over her Pride Month tweet.
"You can love all humans but hate the sin. That's why people are frustrated at her tweet. She's accepting of their willingness to keep sinning. That's not following Jesus," one commenter wrote.
"[A number of us] are reaching out to you pleading from their hearts. Those who experience SSA … are telling you that this isn't the way that we best love them. No, the drinks in this club are poison," another stated.
One follower simply noted in the midst of discussion, "What is sin? What is Truth? The nails that cut through Jesus' hands and feet were not because He thought sin was ok."
Romans 6 says, "What shall we say then? Shall we continue in sin, that grace may abound? God forbid. How shall we, that are dead to sin, live any longer therein? … Knowing this, that our old man is crucified with Him, that the body of sin might be destroyed, that henceforth we should not serve sin."
Become a Christian News Network Supporter…

Dear Reader, has ChristianNews.net been of benefit and a blessing to you? For many years now, the Lord has seen fit to use this small news outlet as a strong influential resource in keeping Christians informed on current events from a Biblical worldview. With much compromise and many falsehoods in modern-day Christianity, we strive to bring you the news by keeping Christ and His word in focus.
If you have benefited from our news coverage, would you please prayerfully consider becoming a Christian News supporter by clicking here to make a one-time or monthly donation to help keep the truth of God's word widely and freely published and distributed?
May Christ continue to be exalted through this work!